18 Mar

Study at Monash University Malaysia

StudySEA is now official recruitment representative in Scandinavia for Monash University Malaysia. The university's next intake is in July and there is still time to apply. We can help you through the application process, but hurry up! Your application must be submitted by April 1, 2014.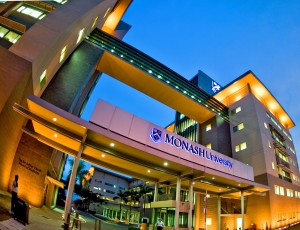 Monash University Malaysia is a branch campus of the reputable Monash University in Australia, which main campus is in Melbourne. The university is recognized internationally for its strengths in teaching and research. It ranks among the top 100 universities in the world according to Times Higher Education. As Monash Malalaysia, fully subscribes and complies with the quality and strict accreditation standards of Monash Australia, students in Malaysia can expect the same high quality as students studying at the Australian campuses.
Monash University Malaysia is conveniently located in Bandar Sunway, which is part of Greater Kuala Lumpur. The country's beautiful capital city, and the iconic Petronas Towers, is just a 20 minutes drive away. Students can live comfortably on campus at the modern Sunway Monash Residence, which features swimming pool, gym, restaurant, convenience store and a Starbucks on site. The university is connected by an elevated walkway to the Sunway Pyramid Mall and Sunway Resort City. The mall is among the world's biggest and features an indoor ice skating court for students to enjoy in the breaks. Try your luck surfing at the Sunway Lagoon's world's biggest man-made surf beach. Learn more about Monash University Malaysia here.
Contact StudySEA today, and we will get you started!