Study in Chicago – the 3rd largest city in the US. StudySEA can assist you with your application to Roosevelt University.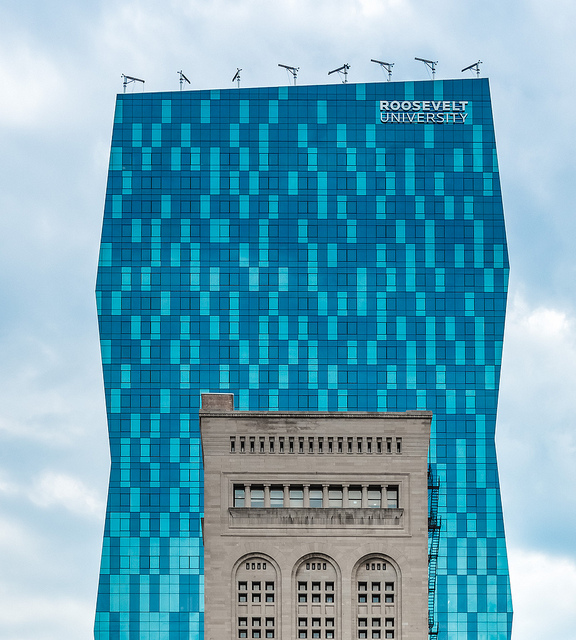 Introduction
Roosevelt University is a private, independent, non-profit university with two unique campuses located in Downtown Chicago and suburban Schaumburg in the State of Illinois. The university was established in 1945 and is named after the former American president Franklin Roosevelt and his wife Eleanor Roosevelt. With the 32-story Wabash building, Roosevelt University has the second tallest university building in the US. The university is especially known for its principles of social justice and equality. In the early ages, some of America's most famous intellectuals was on the university's advisory board, including Albert Einstein. Today, Roosevelt University offers a broad range of degrees on both undergraduate and graduate level. In total, the university has more than 6,000 students in which 5% of them are international from 65 different countries. If you want an American education of high quality, in modern facilities, centrally located in a vibrant metropole, then Roosevelt University is most certainly the right choice. With an average class size of 20 students and a student-to-teacher relationship of 12:1, you can be sure to receive a high level of personal attention.
Chicago College of Performing Arts also belongs to Roosevelt University and is one of America's oldest and most acknowledged conservatories for music and theater.
Location
Chicago is the third largest city in the US with a population of 2.7 million. The metropolitan area, including suburbs, is often referred to as Chicagoland and has almost 10 million inhabitants. The area is an important economic hub in the US, and is also known internationally  for finance, technology, telecommunication and transportation. At Roosevelt University, you can study at either Schaumburg campus or the Downtown Chicago campus. The Downtown campus is located in a mix of modern and historical buildings in the middle of the "the Loop", which is the central business district. The university's Wabash Building, is also the sixth biggest academic complex in the world. The Wabash Building also features student housing and on the top floors, you can live with an amazing view of Chicago and Lake Michigan. The Downtown Campus also has offices, class rooms and library in the historical Auditorium Theater which was built in 1889 and is preserved.
Study periods
Fall semester, 2014: August 23 to

 

December 12 (apply by June 1)
Spring semester, 2015: January 10 to May 4 (apply by October 1)
Summer term, 2015: May 17 to August 1
Study options
You can study as a study-abroad student for 1-2 semesters or for a full bachelor's or master's degree. The university has a broad selection of courses and degrees which are offered under the following faculties:
Chicago College of Performing Arts
College of Arts and Sciences
College of Education
College of Pharmacy
Evelyn T. Stone College of Professional Studies
Walter E. Heller College of Business
View all the programs offered at the university's website.
Student housing
If you want to live on campus, the university offers excellent student housing. You can either stay in the Wabash Building where you will have a view of the whole city or in the University Center where you will live with students from other universities in Chicago.
Tuition fees
As a study-abroad student you are required to pay tuition fees to the university. Tuition per semester in the 2014/15 academic year is:
$13,450 (USD) for studies at bachelor level
$8,438-$9,835 (USD) for studies at master level (does not apply to Chicago College of Performing Arts)
For updated tuition and other fees, please visit the university's website. Students from certain countries are eligible for government financial aid. Find more information under Financing.
Scholarships
Roosevelt University offers scholarships to international students. Contact us for more information.
Budget
StudySEA is happy to prepare a budget for you that indicates expected expenses in relation to your studies abroad at Roosevelt University. Please contact us!
Application fee
There is an application fee of $25. Students applying to Chicago College of Performing Arts are required to pay an application fee of $100.
How to apply
Please contact StudySEA, we will be pleased to assist you with your application. Our study counseling is free of charge.
For more information
If you would like to apply to Roosevelt University or receive more information, please contact your StudySEA advisor who can help you through the whole process. You can also find more information on the website of Roosevelt University.