Study abroad in Malaysia at HELP University in Kuala Lumpur.

Introduction
HELP University was established in 1986 and is today one of the leading private universities in Malaysia. The university offers a wide selection of courses within social sciences and humanities at both bachelor and master level. Students wishing to pursue courses or full degrees at master level, can enroll at Elm Graduate School, which is part of HELP.
Location
HELP has three campuses centrally located in Malaysia's vibrant capital, Kuala Lumpur. The main campus is located in the attractive neighborhood of Damansara Heights. Damansara Heights is often referred to as Kuala Lumpur's Beverly Hills and attracts some of the country's most affluent residents. Fortune 500 companies including Siemens, Hewlett-Packard, Ogilvy and Shell also have addresses here. HELP is currently constructing a brand new eco-friendly campus, which is expected to be ready for students coming in the fall of 2014.
Study periods
HELP University runs 3 semesters a year:
Semester 1: January 20 – May 10, 2014
Semester 2: June 2 – August 2, 2014
Semester 3: August 25 – December 13, 2014
Elm Graduate School runs modules that have different start and ending dates. It is therefore possible to start your studies many times throughout the year. Contact StudySEA for more information.
We recommend you to apply at least 4 months prior to your intended start date.
Study options
You can study as a study-abroad student for 1-2 semesters or for a full bachelor's or master's degree. As a study-abroad student you can follow interesting subjects such as Asian Entrepreneurship and Innovation, Asian Business Environment as well as many other subjects within these areas:
Business
Psychology
Communication
Education
Hospitality and Tourism
Computer Science and IT
If you are interested in studying for a full degree, please find more info on the links below:
HELP University has transfer credit agreements with top universities in Australia, England, USA and Canada. Students studying at HELP are able to transfer to a partner institution typically after 1 or 2 years. Many students choose these programs as it is a cost-effective way to earn an American or other foreign degree.  Contact us, if you are interested in learning more.
Student housing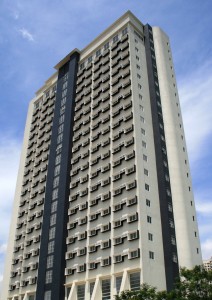 Affordable student accommodation is available near campus. The accommodation includes everything students need and gives you a good opportunity to get to know other international or local students. Most students share room with a room mate, but single rooms are available on a first-come, first-serve basis. Student housing is guaranteed for international students applying through StudySEA. Find more information om HELP's student housing here. It is also possible to live in off-campus housing.
Entry requirements
To be accepted as a study-abroad student, you will need to satisfy the following:
have completed and passed upper secondary school (gymnasium/videregående)
meet the pre-requisites for the subjects you are applying to
meet the English language requirements (check with StudySEA for your country's requirements)
Entry requirements for full degrees depend on the program you apply for and can be found on the university's website or by contacting StudySEA.
Tuition fees
As a study-abroad student you are required to pay tuition fees to the university. The tuition for study-abroad students per semester in 2014 is:
16,520 Malaysian Ringgit (MYR) for studies at bachelor level (maximum 5 subjects)
17,020 Malaysian Ringgit (MYR) for studies at master lavel (maximum 3 subjects)
Students from certain countries may be eligible for government financial aid. Find more information under Financing.
Budget template
We have prepared a budget to give you an overview of the expenses you can expect while studying abroad at HELP University. You can download the budget here.
Application fee
The application fee for study-abroad students is 950 Malaysian Ringgit (MYR). The application fee must be paid before an official acceptance letter can be issued.  Visa application fee is also paid through the university.
How to apply
To apply as a study-abroad student, you will need to complete the application form and mail it to StudySEA with your supporting documents per below:
Application forms: HELP University or ELM Graduate School
List of subjects you you are applying for in prioritized order
List of subjects you currently are enrolled in
Certified copy of transcripts in English from your home institution (if you are currently enrolled)
Certified copy of bachelor degree certificate in English (if you are applying to Elm Graduate School)
Certified Copy of upper secondary school leaving certificate in English (videregående/gymnasium)
8 x passport photos with a BLUE background in size 3.5 cm x 5 cm
Copy of ALL pages in your valid passport (including the cover)
English language test (check with StudySEA to see if you are exempt)
Send your completed application and supporting documents with registered mail to StudySEA in Denmark. You will find our address here.
When HELP University has confirmed your subjects and when your subjects have been pre-approved by you home institutuion, you must pay:
MYR 950 for the university's application fee
MYR 1,750 for EMGS visa application, insurance and medical screening fees
MYR 1,000 for refundable security deposit
Student Pass
As an international student in Malaysia, you are required to obtain a student pass. Once the university has confirmed that you can be accepted to the subjects applied for (and once you home institution has pre-approved the subjects for credit transfer, if applicable), you must pay the EMGS fees directly to the university.
The process of obtaining the Student Pass takes approximately 2 months. Hereafter, you will need to submit your passport and visa approval letter to the nearest Malaysian embassy or consulate to obtain your entry visa. As regulations and procedures are subject to change, you will receive detailed instructions when you apply.
For more information
If you are interested in applying to HELP University, our study advisers can help you. Contact StudySEA today. You will also find more information at HELP University's website. StudySEA is official recruitment representative for HELP University.