Study in Melbourne at Monash University – one of the world's best universities and Australia's largest.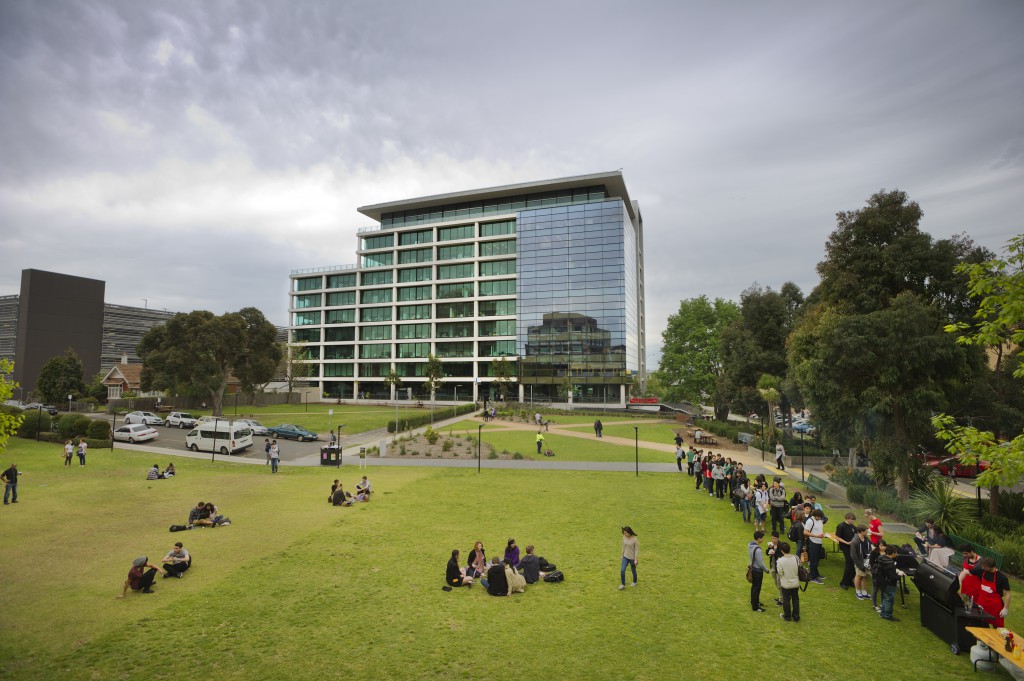 Introduction
Monash University is Australia's largest university with over 60,000 students from 100 different countries. The university ranks among the world's 100 best universities according to the Times Higher Education. It is also a member of the prestigious "Group of Eight" Australia's answer to the American Ivy League. Monash is the only member of the Group of Eight, which has achieved a triple crown accreditation and its Faculty of Business and Economics is accredited by both AACSB, EQUIS and AMBA. Monash is known worldwide for its high quality of teaching and research. The university also ranks among the world's top 50 in certain fields such as law, history, communication and media studies, economics and psychology. If you want to be challenged at a high intellectual level and learn from researchers who are leaders in their field, Monash University is the right choice.
Location
Monash University has several campuses located in and around Melbourne. Melbourne is the capital of Victoria and is Australia's second largest city with over 4.3 million inhabitants. According to The Economist Intelligence Unit, Melbourne is "the world's most liveable city" in 2014. The city offers plenty of cultural experiences as festivals, concerts and sporting events. Read more about student life at Monash. The university has modern facilities and the latest hi-tech equipment for research and science. With over 140 student clubs and societies and 40 sports clubs, you'll never be bored as a Monash student.
Study periods
Semester 1: February 23 – June 26, 2015 (apply by November 1st)
Semester 2: July 20 – November 21, 2014 (apply by April 1st)
Study Options
You can study as a study-abroad student for 1-2 semesters or for a full bachelor's or master's degree. As Australia's largest university, you can follow interesting subjects and programs within many disciplines. Monash University has the following faculties:
Arts
Art, Design and Architecture
Business and Economics
Education
Engineering
Information Technology
Law
Medicine, Nursing and Health Sciences
Pharmacy and Pharmaceutical Sciences
Science
Learn more about your study options here or search for subjects in the university's database here. The first number in the unit code indicates what level the subject is taught at. Subjects taught at master level normally start with 4xxx or higher in the unit code. 24 units is equivalent to 30 ECTS points. Please note that as a study abroad student, restrictions may apply to certain units.
See which full degrees you can study at the university.
Student housing
The University has various types of student accommodation available to international students at all its campuses. At the Clayton campus, international students are guaranteed student housing. Monash Residential Services can assist students who wish to find private accommodation outside the university. Read more about student housing at Monash.
Entry requirements – Study Abroad
To be accepted as a study-abroad student, you will need to satisfy the following:
have completed minimum 1 year of studies at your home institution before departure
Minimum G.P.A. of 3.0 or 60% (check with StudySEA for your country's entry requirements)
Meet the English requirements (check with StudySEA for your country's requirements)
Entry requirements for full degrees depend on the program you apply to and can be found on the university's website under each program or by contacting StudySEA.
Tuition fees
As a study-abroad student you are required to pay tuition fees to the university. Tuition per semester in 2014 is:
12,350 Australian Dollars for studies at bachelor level
11,915 – 18.350 Australian Dollars for studies at master level
Please note that tuition fees for full degrees may vary between programs. You will find the tuition fees under each program on the university's website or by contacting StudySEA.
Students from certain countries are eligible for government financial aid. Find more information under Financing.
Budget template
We will be happy to prepare an indicative budget for you, to give you an overview of your anticipated study and living expenses when studying at Monash University. Please contact your StudySEA study advisor.
Application fee
There is no application fee for study abroad students.
How to apply
To apply as a study-abroad student, you will need to complete the application form and mail it to StudySEA with your supporting documents per below:
Application form (download here)
Certified copy of transcripts in English from your home institution
Certified copy of bachelor degree certificate in English (if you are applying to study at master level)
Copy of upper secondary school leaving certificate in English (videregående/gymnasium)
6 x passport photos in size 3.5 cm x 5 cm (head size: 2.5 cm x 3 cm)
Copy of your valid passport
Send your completed application and supporting documents by registered mail to StudySEA. You will find our address here.
Student visa
As an international student in Australia, you are required to apply for a student visa once you have been accepted to the university. On a student visa, you are allowed to work up to 20 hours per week while school is in session and full time during the breaks.
For more information
If you are interested in applying to Monash University, StudySEA can help you with the application for free. StudySEA is official recruitment representative for Monash University in Scandinavia. More information about Monash University can also be found at the university's website. Please contact our study counselors if you have questions.